We completed our job in Tennessee, and as the weather closed in a little bit, we set sail to the south in search of sunny Florida!. Two weeks of wind, rain, and cold in Texas, and now rainy weather in Tennessee, and we were ready to get down to some serious relaxing. We cut southeast out of Tennessee, and after hitting I-95, we had Florida in our sights.
On our second day of traveling, we pulled into Gainesville to visit Aunt Anita who had passed a few months ago. Since she always told me to park "my trailer" in her driveway, we figured she and Uncle Jack would get a kick out of us pulling in through the front gate of Forest Meadows Memorial Park, and stopping for a visit. There were some other visitors in the park who seemed quite surprised to see us meandering through the grave sites, but we had no issues and had a nice visit. After Gainesville, we headed south on I-75 as short distance and spent the night at
Grand Lakes RV Resort
in Citra, Fl. The park had been recommended to me by a former co-worker who generally spends the entire winter there.
This year, unfortunately, he and his wife were unable to make the trip south. Debbie gave them a call and was able to secure their last available site, and we were soon set up and enjoying the warm Florida weather. But if you happen to be following a GPS to get there, ignore the final turn directions and look for a huge billboard on the right that points you in the right direction.
The park itself is a combination of park models and campers, and is comfortably situated along a 9 hole golf course. There is quite a large lake there also which looks like it should have lots of fish in it. The lakeside restaurant had a pretty good dinner special going, so we splurged and walked on over. The paved sites were just a little crowded, but all the people seemed quite friendly and it is definitely a park worth visiting again.
On Tuesday the 27th, we arrived safely and checked in to our spot at Sun-N-Fun, Sarasota. We have been here a few times before, and Dean and Joanne have been here since early January, and I'm sure were waiting on our arrival. We eased through the front gate with very little hassle, and were escorted to our site here at
Sun-N-Fun Sarasota
, # 706. We have never camped over on this side of the park before, and we both seem to be enjoying it more than the avenues on the other side. There's a lot less traffic, which means less noise. You always have to tolerate the campers out walking their "kids", (dogs), but that's to be expected everywhere.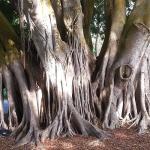 On 2/7, Debbie and the girls visited the
Selby Botanical Gardens
, over in Sarasota. They all came home quite impressed with the floral displays they saw at this Sarasota bay-front location.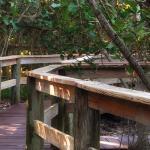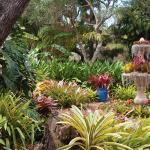 Unfortunately, the girls did not bring home any photos of the gardens, so I borrowed a few from their website. It looks like a pretty amazing place.
Prior to leaving, Debbie mentioned to Dean that I had a few motor home projects going down on site 706, and it didn't take Dean long to to wander down and see just what I was up to. While we were in Red Bay last, Debbie discovered the parts department, and it didn't take her very long to discover that parts were being sold at wholesale prices!! I think she found a new best friend over there. Today I was replacing the screen door handle, which I completed before Dean arrived. But when he pulled in, he found me working hard at removing the rubber treads on the front entry way.
Two steps had ripped and needed replacement, and Debbie had located exactly what I needed and proudly brought them home for me. But this leads me to another story, and it has to do with carrying all the right tools to get any job done. Years ago, at some forgotten seminar, we listened to a speaker about bringing every tool known to man on your trip. Many people in the seminar acknowledged that they actually did bring all their tools. Well, turns out, tools are weight, so you should really seriously consider leaving some at home. "But", the speaker continued, if you have a project to do, just get started at it, and it won't be long before a neighbor will show up, push you out of the way, and get the project completed for you. (Can you see where this story is going??)
After a quick trip to Lowes for a knife and adhesive, all I had to do was step back, and watch Dean jump right in, and knock this project out. I'll have to say Dean is a much better craftsman than I, and the project obviously went a lot smoother than if I was making the measurements and the cuts. Before long we had the steps project completed, and I knew that Debbie would be quite pleased with me........and Dean!
Now that Dean and I had our projects done, we were treated to a day off at the rodeo over in Acadia, Fl. Actually, Deans sister seemed to be the wagon master, and invited Debbie and I along. They had never been to a rodeo, and Debbie and I were veterans now, having been to the rodeo last year over in San Angelo with Randy and Retha. The
Acadia All Florida Championship Rodeo
is actually 4 days of rodeo competition involving cowboys and cowgirls from all around the country. It is always fun to attend a rodeo, as the flag is displayed proudly, and you'll never see a cowboy taking a knee during the National Anthem. Prior to the show, all Veterans were recognized, as riders carrying flags of all the Branches of Service were brought into the arena.
And then suddenly the action began, and we witnessed about 2 hours of saddle bronc riding, steer wrestling, bareback bronc riding, calf roping, team roping, barrel racing, and finally, BULL RIDING! There's just no way to describe the excitement in the arena as the competitors try to hang on for dear life.
And of course we have to include the rodeo clown who worked pretty hard at getting the crowd involved in the show.
He really plays an important role in the rodeo, as he tries to intervene between the bull and the riders after they have been thrown. I do believe it takes a crazy man to climb into a barrel moments before a 2 tom bull sends it flying.
And oddly enough, I didn't see anyone stepping up for this pony ride outside the arena???
The weather has cooled down just a bit from when we first arrived, and we've actually had a few rainy days. But we seem to find something to amuse us everyday. When the warmer weather comes back, we'll be getting back out on the boats on the inter-coastal. I made contact with the Corinth Snowbird group, but unfortunately I couldn't make the reunion this year. I've got it on the calendar for next year though. Take care and stay safe everyone!